I was 20 years old and had just gotten home from studying abroad in Spain in the summer of 2004. It was a fun & not so fun trip all at the same time. I made friends & lost friends, came home lonely & frustrated with where my life was, & at the same time came home completely excited about the world & all its possibilities. That trip also made me realize that I wasn't sure if I wanted to go back to the college I was currently attending. Spain had completely opened my eyes to a new world, a bigger world, and I wanted more of it.
On the day I was supposed to move back to campus I decided that it was time to transfer schools. I went from a college of 600 students where I had lots of friends to a university of 20,000 where I knew ONE person.
Seven days before classes started for the fall semester my mom and I loaded up her minivan with my dorm room stuff. We headed up the freeway to my new school. I didn't have a dorm room, I didn't have any friends on campus, I didn't have a class schedule, heck I hadn't even officially been accepted yet (and as I'm typing this I'm starting to think I was a tad bit crazy.) Somehow my mother worked a miracle to get me accepted in a matter of hours, she found me the LAST dorm room available on campus, and found me the last 12 hours available for a class schedule to fit inside the major I wanted.
A few days later we moved me into my dorm that housed about 600 people. Yes, 600 people! That's how many people I was accustomed to being on campus with at a time, not living with in a dorm! Once I was all moved in my mom pried me off of her ankles as I was screaming & crying, begging her not to leave me left. I think she cried as she walked down the hallway to the elevator but she didn't let me see. I cried, but didn't let her see me shed a tear or see that I was shaking from head to toe in fear. I didn't want her to know I was terrified (she knew though–she's my mom.)
The first day of classes started. I literally got out the campus map, placed it on my bed & memorized the routes to my classes. I walked to class, not sure if the butterflies in my stomach were from sheer excitement or sheer terror. It was probably a whole lot of both.
I was lonely for a semester. I was scared for a semester. By spring, the place finally felt like "home away from home." It opened my world to my degrees in Spanish & Latin American Studies. It opened my door to studying abroad in Mexico. It opened my door to Todd. It opened my door to endless possibilities of hope, dreams, & building my life to be the one I wanted, not one other people wanted for me.
It was one of the scariest decisions I ever made. It was one of the bravest decisions I ever made. It was one of the best decisions I ever made. It is one I would make over & over again if ever asked to repeat it.
———————————————————————————————–
This post is a part of Mama Kat's Writer's Workshop. My first time participating!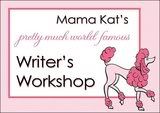 Past Posts You Are Guaranteed to Love: