in her feature series called
Mommy Monster Moments
(even though I've never had any of those….ha! Neither have you right?!) She's an awesome blogger who has opened her blog up every Monday to a different guest blogger & I'm happy to be a part of the group!
Click the button to read all I have to say: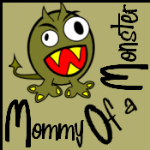 ———————————————————————————-
If you are stopping by from Natalie's for the first time, HELLO & welcome to my small piece of internet heaven!
If you like what you read here I hope that you will consider subscribing to my RSS feed, or via email or Google Friend Connect.
Here are some of my favorite posts:
Have you Ever Done this or am I just the world's biggest B?
This is the post I mentioned over at Natalie's today. It wasn't one of my best moments. And I hope it's one I won't ever repeat again.
I love it when Lboy helps me flash people
A funny post on shopping with a toddler-we've all been there right?!
My Neighbor Tommy
A bittersweet post about an amazing neighbor & friend who passed away 3 years ago this month.
Thanks for stopping by today!
Past Posts You Are Guaranteed to Love: