My childhood neighborhood was amazing, it was magical. It was a Sandlot kind of neighborhood. There was a community pool, tons of kids, the iconic grumpy, old couple that lived across the street, the grandfatherly next door neighbor who became a family member, & tons of kool-aid stands.
The house that I grew up in has a creek in the backyard. That creek has been a fishing hole, the Grand Canyon, a crawdad catching pond, a hiding place, a burial place for pet fish that just couldn't make it through the murky waters of dirty bowls. That creek has had more Cowboy & Indian raids than a John Wayne Western with imaginary guns & arrows flying through the sky.
The best part about our neighborhood was how my brothers, sisters, & I pretty much ran the place. You know we were angelic to the adults but fearsome to the other kids. No one messed with the five of us. They called us "the Mafia." I remember a kid telling a friend of his to be careful because if you messed with one of us you messed with all of us. One of my sibs got sucker punched in the gut & the first thing she yelled was, "I'M GOING TO GET KATE." It's not like we were violent, it's just there were more of us than there were of any other family. It was intimidating.
The BEST part of our neighborhood when we were kids was the summer game "Capture." And by Capture I don't mean your usual, run of the mill go after that lame flag capture. We went after people. We would gather every neighborhood kid that was interested, split into teams (Big Kids vs. Little Kids–like how I swung that?!), the Big Kids always hid first. In fact I don't think the Little Kids ever got a chance to hide in all those years of playing.
We hid in the creek, we hopped fences, we crawled in bushes, in fact I think I even hid in a dog house one time, okay several times, okay okay a thousand times. That's how absolutely serious we were. We did NOT play games. And you could only play in pitch black, wear black, paint your face black, no flash lights, & no going inside. Oh man it was awesome! Then we would start trying to get to home base (my mom's dogwood tree) before the Little Kids could get to us. It was a game of strategy, skill & sheer luck that you didn't trip over one of those damn tree roots that got you every.single.time.
Eventually, my dad banned the game. He was afraid that someone would get hurt. Then I turned into a teenager, started driving, got interested in sports & boys, kids moved away, and the neighborhood magic fizzled and just became streets & houses. But every now and again, especially in the summer, I'll hear the crickets start chirping, and it feels like the best idea in the world to start a round of Capture just one more time.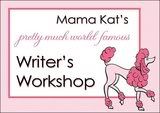 Past Posts You Are Guaranteed to Love: