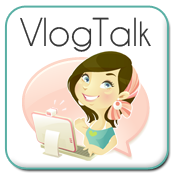 Our VlogTalk Prompts for this week ARE…..
1.) Photo slideshow of anything you want (have fun with it – add transitions, words, music)
2.) Date night with your significant other (this vlog can also be linked up with Project Marriage at Life Without Pink and MommyFriend)
3.) Wildcard! You can do any past prompt you want – just be sure to tell us which one you are doing in your post. (Submitted by Patch of Blue)
To make it easy for you here are all the past prompts:
5/12 Prompts, 5/19 Prompts, 5/26 Prompts, 6/2 Prompts, 6/9 Prompts, 6/16 Prompts, 6/23 Prompts, 6/30 Prompts, 7/7 Prompts
Quick reminder on the guidelines:
You must have a vlog related to one of these 3 prompts to link up.
Link up directly to your vlog post.
Time limit is 4 minutes or less.
The link will be open Monday July 11th around 9pm CST and will be open for one week.
The next #vlogtalk Twitter chat is Tuesday July 12th from 8 to 9pm CST.
Also, be sure to follow VlogTalkMeme on Twitter and like us on Facebook.
HAPPY VLOGGING!!!

To get the prompts straight to your inbox fill out this form!
Past Posts You Are Guaranteed to Love: