Hello Dear Blogging Friends! Happy Tuesday!
Today's post was originally dedicated to my green thumb woes…okay who am I kidding?! I couldn't come up with a single post about what I wanted to write about today & so I was going to bore you all to death with a post about how terrible my flower bed looks & how much work needs done. Then I was even going to post pictures of how terrible it looks, so you could all really judge me on neglecting it for this long. So, I decided I'm going to save this for Thursday! ha
Instead, today's post is going to be dedicated to The Lady Blogger's Circle Blogging Workshop. The women over at The Lady Blogger's Society have decided to offer a wonderful workshop for all us bloggers! It would be a great opportunity for you (or me) to be a part of since I'm a new blogger. I need the help trust me! If I write a post about them today, then I would be eligible to win a scholarship for the workshop! All I have to do is write about why I would LOVE to be a part of the group. So I made a list; it's what I do best:
1. I'm new to the blogging world! I would love to hear from the experts!
2. Let's be honest, I need help with my blog!
3. My husband has a love affiar an addiction to xbox & I need something to do with my time while he's punching away on his controller! This workshop would be perfect!
4. They told me I could make new friends! I really want new friends (hear the desperate whiny sound in my voice?! 🙂
5. It would be a lot of fun!
If you are interested check out their link: The Lady Blogger's Society, become a member at their site, & then sign up for the workshop! If they are full, don't worry, they said they are going to be offering the class once a month or every other month. Enjoy!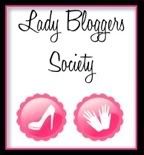 Past Posts You Are Guaranteed to Love: