I joined The Lady Bloggers' Society last week & they do this thing called the Social Tea Party. Since this is only my first week of blogging, I decided not to post much this weekend & read up on "How to Blog" & to go in search of blogs that I'd like to read. I didn't want to stay within the Mommy Blogging scene so I went into three different categories in : Crafts, Spiritual, & Other Blogs. It opened a whole new world!
1. Dot Dot Dinosaur–this week I reread Jurassic Park & watched the movies, so I'm in dinosaur mode. This site is cool, has some cool art, is definitely different from the Mommy Blogging World & I'm glad I found it.
2. Single and Sane–Margaret really had some great insights! And with it being the start of Holy Week, I thought that it was a good place to go. Seemed appropiate.
3. Educational Wooden Toys— definitely going to make my pocket book lighter. I'm constantly looking for new toys for Wolverine. Developmentally, he outgrows toys pretty fast, so I'm glad I found this site.
For the new blogger (me!) they had some great Blogging Tips. I'm trying to soak up as much info as I can–while they did get me a little nervous about Blogging Etiquette (hope I haven't pissed anyone off), I'm glad I read what I did. I plan on checking back with them as often as possible to improve my blog. This is a good one too about learning out to grab readers' attention with interviews (which I've been wanting to do.)
If you're wanting to discover some new ladies & insights into blogging, go check out the The Lady Blogger's Society.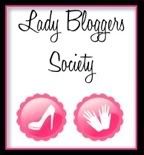 Past Posts You Are Guaranteed to Love: