Everyone, Meet Shelby!
There are a million reasons why you should be reading her blog. Here are a few:
1. She has the cutest, little, blonde girls!
2. She is the best commenter in the world!
3. We email pretty much all day long because of her awesome comments!
4. She ALWAYS writes back to comments on her blog!
5. Her posts are always a lot of fun!
6. And last but not least, I did her design!
Shelby wanted something with green & pink that was feminine & clean. I'm so in-love with the way it turned out!
This is what she had to say, "She just started up her blogger design business and its called Cutesy Couture Designs. I love to read her blog and chat back and forth her usually every day and now I love my blog even more because of her "cutesy" blog design made especially for me. Honestly I was shocked at how inexpensive her prices were and what you get for them, so if you need a new design hop on over! Thanks Kate!"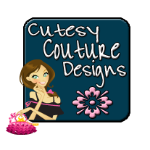 I hope that you will all stop by her place today & leave her some comment love! She totally deserves it!
I hope that everyone had a great weekend!
Past Posts You Are Guaranteed to Love: