I'm over at Taming Insanity today– I'm sharing how I'm a tad bit insane when it comes to blogging. Like, for real. And it can't be tamed. *badum ching*
Okay, okay, I know. That was bad.
But for real. Go read. The blog is awesome, I'm honored to be a contributor!
Happy Memorial Day!
And HAPPY 18TH BIRTHDAY TO MY LITTLE BROTHER & Congratulations on your graduation day!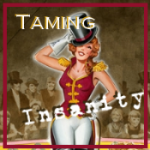 Past Posts You Are Guaranteed to Love: