Welcome Corinne from Trains, Tutus, & Tea Time! Leave her some comment love or better yet stop by her place for a visit!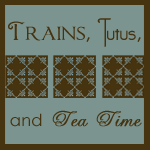 ——————————————————————————
1. What's your favorite blog to read?
I have so many favorite blogs that I read… but right now, the one that makes my heart flutter when I see it pop up in my reader is Kelle Hampton's Enjoying the Small Things. She leaves me smiling, sometimes teary, and always inspired.
2. What's your best blogging tip?
To be honest and blog about what you are passionate about. If you write from your heart, others will be able to feel it, and won't be able to help themselves and will keep coming back to your blog!
3. Give a link to your favorite blog post you've ever written!
This is really hard… but Awakening is one of my all time favorite posts that I've written.
Sometimes I wonder why I blog. Why I spend hours reading blogs and polishing my own and crafting words and neglecting my husband. It's a time suck. And a large one at that. There are countless blogs out there. One links to another and another and next thing you know you've spent five hours on various blogs reading about other peoples lives while you sit in your own little home as dust collects around your now tingly and asleep feet.
Not that I've done that…
I say I blog for posterities sake. For my kids to know a deeper part of me than the mommy who takes them to the park and bakes cookies.
And that's true.
But I think the bigger reason is to be heard, on a grander scale. To find a space to explore and create and put a part of myself out there. For others to read. To take in and ponder and recognize a bit of themselves in my posts.
For validation and sympathy and knowing that I'm not alone in almost any struggle that I go through.
I think those are the real reasons. Because ultimately, no one likes to feel alone. And on the couch, as the dust settles around my feet from a day of chasing two crazy kids around, making lunch and snacks and dinner and giving all my love, I often feel alone. And though I crave that alone time, it's nice to know others have an odd relationship with motherhood and life and that we're all in this together.
I think that's why I blog.
—————————————————————————-
THANK YOU CORINNE!
Don't forget to check out my Scentsy Warmer Giveaway (July 26-Aug 2!)
Past Posts You Are Guaranteed to Love: