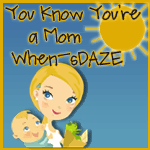 It's that time of the week again!
You Know You're a Mom When:
You're getting dressed to go out to lunch with your hubs & son. Said son is screaming like a banshee and clutching your leg as though he's never going to see you again being very clingy while you're trying to get ready. You grab the brand new, beautimus shirt your hubs bought for you while on his trip & you think you are looking "SMOKIN!" You make it to the restaurant & you're struttin your stuff, yeah that's right, you know you look good. You get up to go to the bathroom to wash your hands & BOOM! That's when you notice 2 things about your shirt:
1. It's see through. And you have on a navy blue bra. Maybe those peeps weren't staring at you out of sheer jealousy because of your hotness, they're staring at you because you're shirt is SHEER! And now you're the hooker in the see through shirt–Fan-flippin-tastic.
2. Not only is your shirt sheer, but it's on INSIDE OUT! So now I'm a slut &Â an idiot. Double Fan-Flippin-tastic.
You're grocery shopping & it has turned into the grocery store trip from hell. But you have to get this trip done because you have an empty fridge & pantry. So you're going to suffer through it–the kid is throwing food out of the buggy, climbing up & down in his seat, screaming, he tore the grocery list into pieces & to top it all off people are getting pissed. If I were the kind of person who gave people the finger, yesterday would have been the day. It definitely did not go well.
It's time for the baby to go to bed. But he's so stinkin' cute & you don't want to him to because you're having so much fun playing with him. That big grin & HUGE laugh are so contagious that every.single.worry instantly disappears!
Past Posts You Are Guaranteed to Love: