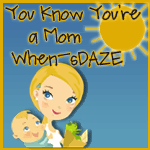 I'm pretty much in love with memes. And I see this one all the time & I always wonder why in the heck I don't participate–so here it goes!
You know you're mom when, you open up your very fab, white with faux snake skin purse & you discover biter biscuit crumbs EVERYWHERE! I mean they're spilling out of your wallet, your chap stick is covered in the nastiness–and instead of thinking "How in the h-e-double hockey stick did this happen?" You just roll with it…
You know you're a mom when, you're fixing your hair or something like that and you don't hear the Toddler anymore. He must be playing with something, so you're on the hunt. Turns out he was in the livingroom, digging through your purse, & he discovered your tampons. He's thrilled with his new find! You are just so happy that he's quiet & you can actually put make up on, so again, you just roll with it…
You know you're a mom when, you actually realize your a mom! You used to think about all these things that you couldn't wait to do in the summer when you had kids. Things your mom did with you & here you are doing them with your own kiddo! It's a major reality shock, "OMG, I'm a mom!"
You know you're a mom when, you go into your favorite store & find something that you would have dropped the dough on a year ago, I mean hey, it's only $30. But then you start thinking about how $30 is co-pay at the doctor's office, what if Toddler gets sick? Or $30 could be a new box of diapers or [fill in blank] for baby. But then you go to the kids' section & you see the cutest, baby tennis shoes & you buy them. Guess what?! They're $30. And you didn't even blink an eye.
Past Posts You Are Guaranteed to Love: